Report
The Hong Kong Alumni Association sure knows how to show their Longhorn pride! Great evening with our alumni here pic.twitter.com/F1PGcY4VuY

— Greg Fenves (@gregfenves) June 21, 2018
The University of Texas at Austin Hong Kong Alumni Reception was held on June 21, 2018 in the Taishan Room of Island Shangri-La, Hong Kong. The event is part of a series of gatherings of our university's management with its alumni in six cities in Asia.
We were fortunate to have President Gregory Fenves, Dean of McCombs School of Business Jay Hartzell, and Dean of the Graduate School (and former Olympian in fencing) Mark Smith coming to Hong Kong for the reception. It is heard that some alumni in other Asian cities were jealous that we could meet the President while they did not have the chance.
The event officially started with a short speech by our Chief Administrator Victor K. Nip to introduce Hong Kong Texas Exes and President Gregory L. Fenves to the attendees. Then Presidents Fenves delivered his special remarks to the crowd. Dean Jay Hartzell and Dean Mark Smith then gave their speeches. Afterwards, the attendees had more than an hour to talk to the Presidents and the Deans and mingle among themselves. Attendees were given a souvenir UT bag which they happily took home.
About 80 guests including many alumni whom we could not reach out to were there. It easily became the biggest UT event in Hong Kong ever.
Invitation of the event
We would like to give our special thanks to our doctoral degree student Clara Li for her musical performance during the event.
---
Invitation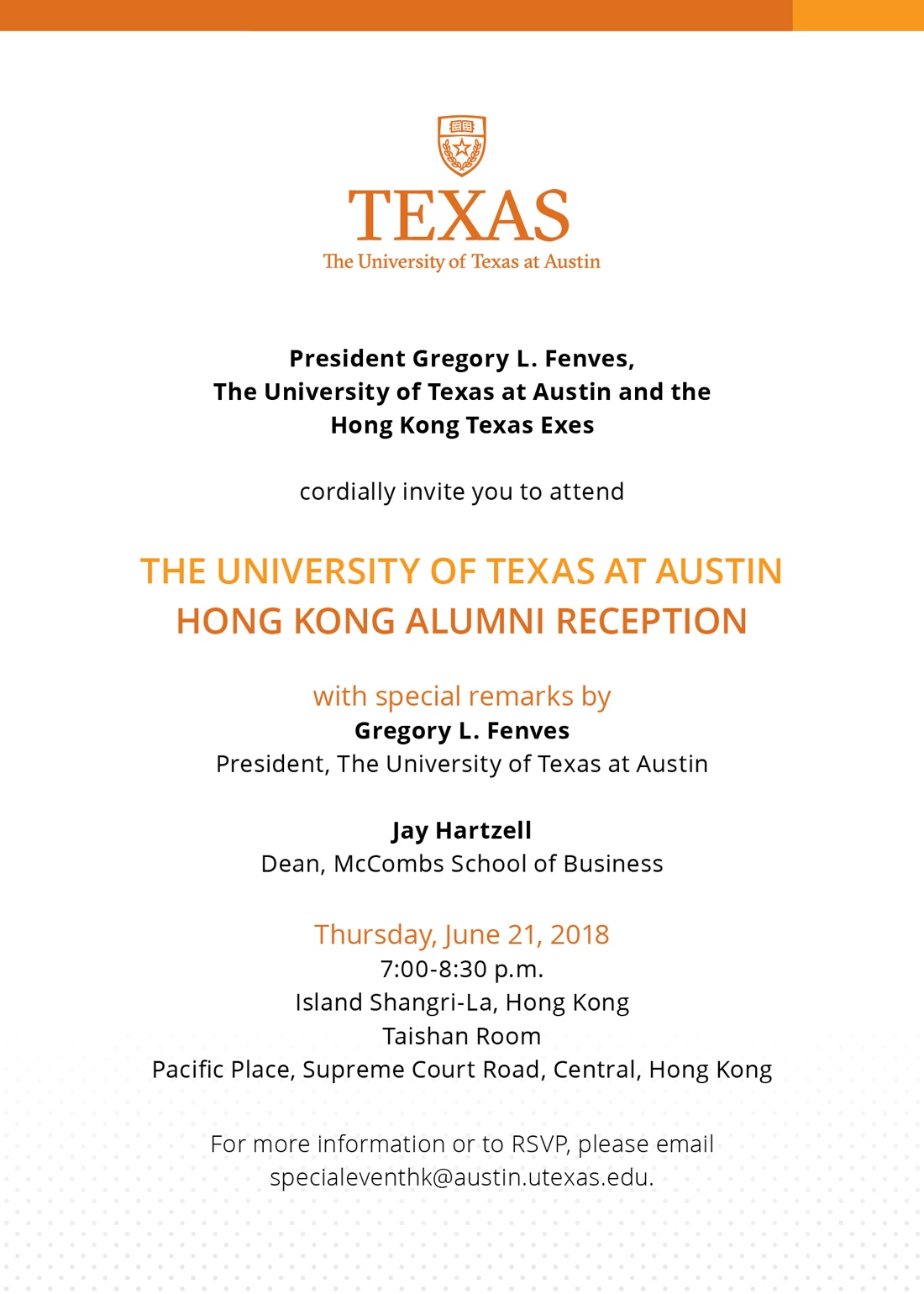 President Gregory L. Fenves,
The University of Texas at Austin and the
Hong Kong Texas Exes
cordially invite you to attend
The University of Texas at Austin
Hong Kong Alumni Reception
with special remarks by
Gregory L. Fenves
President, The University of Texas at Austin
Jay Hartzell
Dean, McCombs School of Business
Thursday, June 21, 2018
7:00-8:30 p.m.
Island Shangri-La, Hong Kong
Taishan Room
Pacific Place, Supreme Court Road, Central, Hong Kong
For more information or to RSVP, please email
specialeventhk@austin.utexas.edu.
---
On Facebook
Facebook Event Page: Click here
Please note that you have to log into Facebook and be a member of the HKTX Facebook group to view the contents. To go to the Facebook group, click here.
---