Quick Stats:
304

Official Members

573

Facebook Group Members
(As of March 10, 2018)
---
Newsletter: HK HORNS Issue 11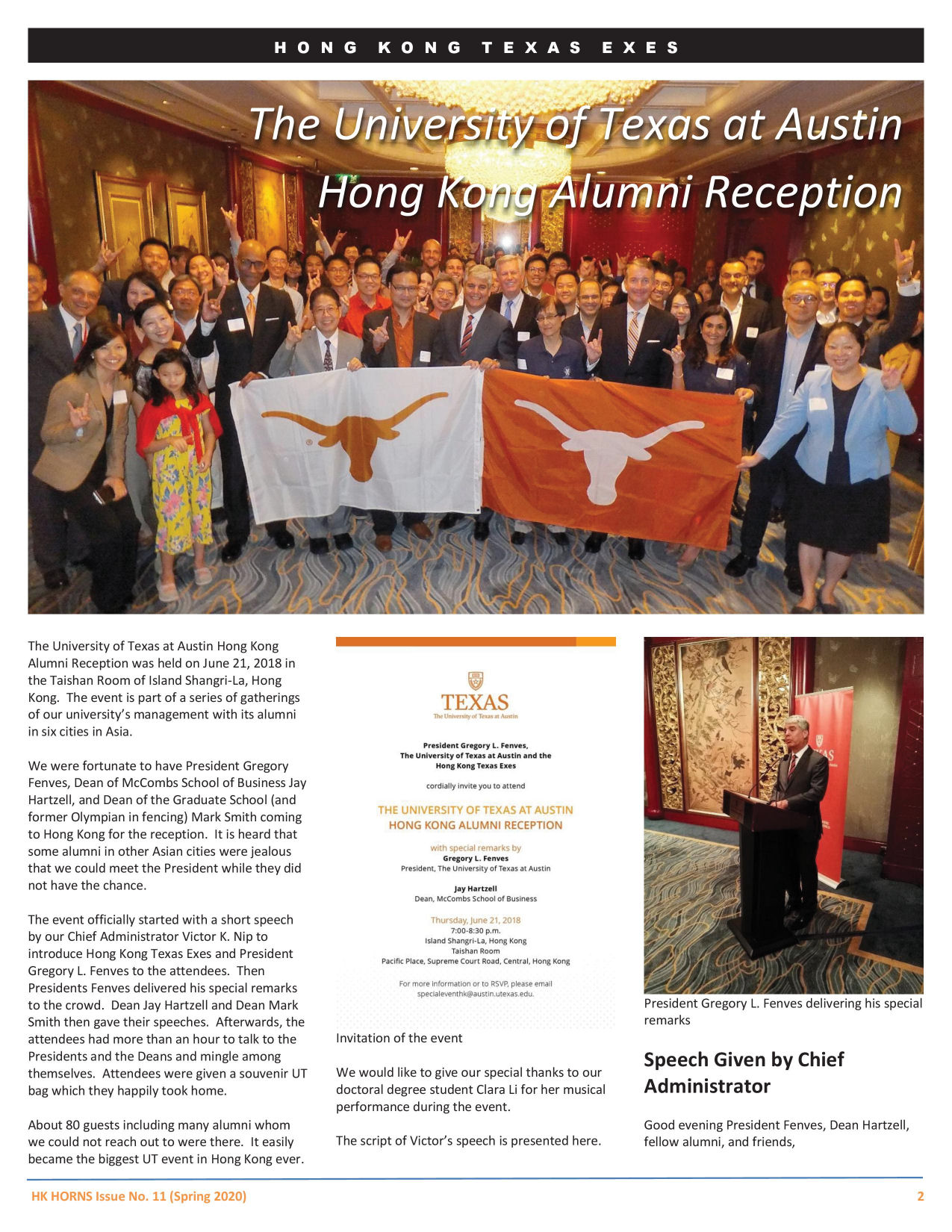 ---
Message from the Interim Administration Unit
The election of HKTX for 2020/21 will be held during the AGM on March 14, 2020. The IAU (Interim Administration Unit) would like to invite our members to stand for election as the Executive Committee members of HKTX. The detailed requirements as specified in the Constitution are listed below. IAU Chief Administrator Victor Nip will continue to be the Election Officer. If you are interested to become members of the next Executive Committee of HKTX, please contact him at victor.nip@hktx.org.
The IAU would also like to invite our members to organize activities for the members of HKTX.  The IAU is only responsible for preserving the existence of HKTX.  So, we need our members to organize social activities for the other members.  The IAU has identified a number of activities that our members may host/volunteer in:
Happy hour gatherings
Football watching parties
Casual dinner
Hiking
Chinese festival gatherings (e.g., Mid-Autumn Festival and Chinese New Year)
Meeting the UT Wind Ensemble
Meeting students of the BBA study abroad program
Sports activities (e.g., bowling)
Publication of the newsletter
If you are interested any of these, please contact us at info@hktx.org.
Until next time, may the 'Horns be with y'all!
Interim Administration Unit, HKTX
===
Election for Executive Committee
Eligibility
According to the Constitution of HKTX, alumni who have been members of HKTX for more than one year may stand for Election. Other alumni may also join the Exco as non-core members of the Exco.
Composition of Exco
The Constitution states that the Exco is elected or confirmed as a cabinet with 4 to 8 members.  A cabinet candidate is a group of members standing for election together to become the Exco.  An excerpt of the Constitution relevant to the Election is attached at the end of this message.
To run for an office, you may form your own cabinet candidate or join another one which is being formed. If you are interested to be an Exco member and want to join other candidates to stand for election, you may write to me and I will connect you with one, where available.
Term
The term of the newly elected Exco will start 7 days after being elected and end on June 30 of the calendar year that follows.  HKTX will provide the resources for the elected Exco to meet the requirement set by Texas Exes.