Invitation
The Annual General Meeting of Hong Kong Texas Exes will be held on February 25 starting at 6:30pm at Inn Side Out (https://www.openrice.com/en/hongkong/r-inn-side-out-causeway-bay-western-wine-r156122) located on the 2nd Floor of South China Athletic Association. As HKTX is now under the administration of the Interim Administration Unit (IAU), the AGM is going to be the only official activity of HKTX for the fiscal year. Grab the chance to meet our fellow alumni!
Date: February 25, 2017 (Saturday)
Time: Happy Hour starts at 6:30pm, AGM starts at 7, and AGM starts at 7:30.
Venue: Inn Side Out, SCAA Building, 88 Caroline Road, Causeway Bay
Cost: Pay for your own food and drinks (normally around $200 per head)
Experience tells us that our Texas Independence Day Dinner/AGM participants enjoy the event so much that they stay for a long time, and even talk in the street for an hour after leaving the venue. Don't miss the chance to meet our fellow alums!
RSVP. See you there and may the 'Horns be with y'all!
===
The election will also be held during the AGM. The IAU would like to invite our members to stand for election as the Executive Committee members of HKTX. The detailed requirements are listed below. IAU Chief Administrator Victor Nip will be the Election Officer. If you are interested to become members of the next Executive Committee of HKTX, please contact him at victor.nip@hktx.org. If you want to be a member of IAU in case no members stand for election, please also let Victor know.
The IAU would also like to invite our members to organize activities for the members of HKTX.  The IAU is only responsible for preserving the existence of HKTX.  So, we need our members to organize social activities for the other members.  The IAU has identified a number of activities that our members may host/volunteer in:
Happy hour gatherings
Football watching parties
Casual dinner
Hiking
Chinese festival gatherings (e.g., Mid-Autumn Festival and Chinese New Year)
Meeting the UT Wind Ensemble
Meeting students of the BBA study abroad program
Sports activities (e.g., bowling)
Publication of the newsletter
If you are interested any of these, please contact us at hongkong@alumni.utexas.net.
Until next time, may the 'Horns be with y'all!
Interim Administration Unit, HKTX
===
AGM presentation: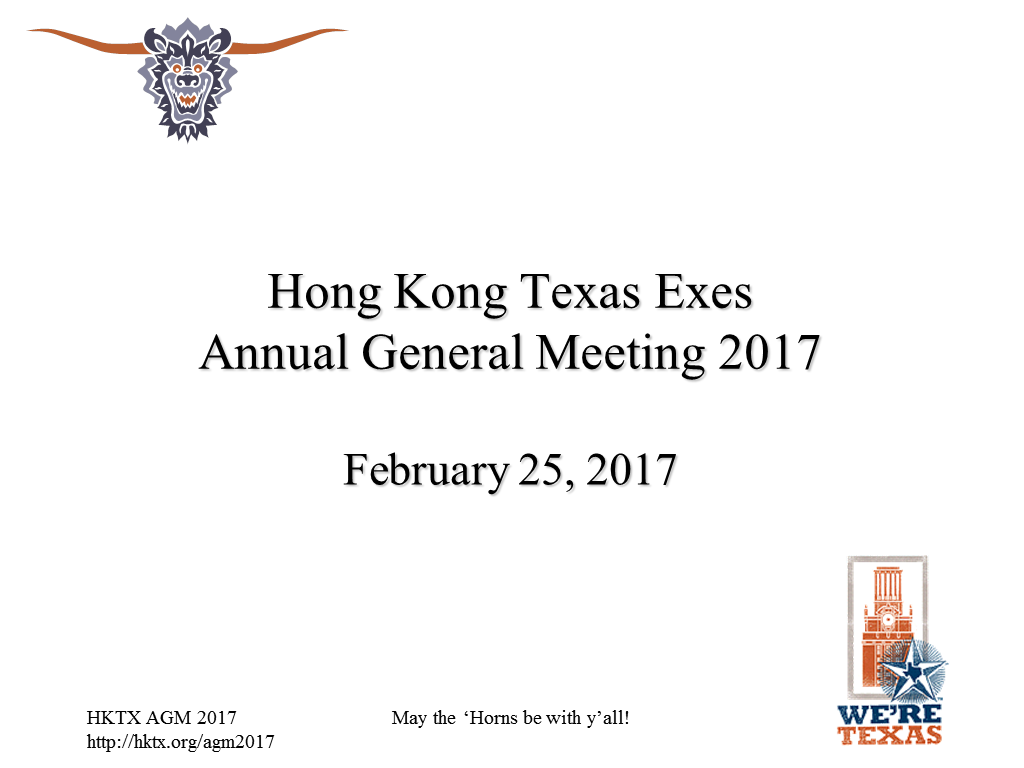 ===
Election for Executive Committee
Eligibility
According to the Constitution of HKTX, alumni who have been members of HKTX for more than one year may stand for Election. Other alumni may also join the Exco as non-core members of the Exco.
Composition of Exco
The Constitution states that the Exco is elected or confirmed as a cabinet with 3 to 8 members.  A cabinet candidate is a group of members standing for election together to become the Exco.  An excerpt of the Constitution relevant to the Election is attached at the end of this message.
To run for an office, you may form your own cabinet candidate or join another one which is being formed. If you are interested to be an Exco member and want to join other candidates to stand for election, you may write to me and I will connect you with one, where available.
Term
The term of the newly elected Exco will start 7 days after being elected and end on June 30 of the calendar year that follows.  HKTX will provide the resources for the elected Exco to meet the requirement set by Texas Exes.
===
Excerpt of Constitution
Interim Administration Unit
4.4.4 The IAU shall perform the following duties:
Preserves the existence of HKTX
Safeguards the financial and other resources of HKTX
Invites eligible Ordinary Members to stand for election at least once every 3 months
Invites Ordinary Members at least once every 3 months to volunteer to organize activities for HKTX's members, and approve and monitor the organizing of such activities
Holds an Annual General Meeting as required in section 5.1
Holds Extraordinary General Meetings that fulfill the requirements in section 5.2
Appoints Election Officers
4.4.7 Under the management of IAU, HKTX shall not fund the activities not regarded as IAU duties listed in section 4.4.4.  Reimbursement of losses of an activity not regarded as IAU duties listed in section 4.4.4 shall need the approval in a General Meeting.
Election
5.5 Election
5.5.1 The Executive Committee is elected or confirmed as a cabinet.  Each cabinet candidate should consist of a President candidate, a Vice-President candidate, a Treasurer candidate, and candidates of other offices as the President candidate sees fit.  The maximum number of candidates in a cabinet candidate is eight (8).
5.5.2 Subject to section 4.1, all candidates must be Ordinary Members of HKTX whose membership fees are in effect at the time of election and have joined HKTX for one (1) year or more at the time of election or as at March 2 of that year.
5.5.3 If there is one (1) cabinet candidate running for election, the cabinet candidate has to be confirmed by a simple majority of votes.
5.5.4 If there are two (2) cabinet candidates running for election, the cabinet candidate with more votes is elected.
5.5.5 If there are more than two (2) cabinet candidates running for election, the exhaustive ballot system should be used, and the whole electionshould be finished within the same meeting.
5.5.6 The out-going Executive Committee or IAU should appoint an Election Officer at least eight (8) weeks before an AGM to handle all election matters.  The Election Officer must be a Member who is eligible to vote at the time of appointment, and may not stand for election in the election that he is responsible for.  Announcement about the appointment should be sent out to the membership at least six (6) weeks before the election.
5.5.7 If for any reason no candidate is elected or confirmed in an AGM, an IAU should be elected immediately in the AGM.
5.5.8 If an IAU is to be formed at a time other than during the AGM, the Election Officer shall call an Extraordinary General Meeting for theelection for the formation of the IAU, subject to the provision of section 5.2.
5.5.9 All members with voting rights, including the Election Officer, are eligible to be elected as members of the IAU.  Each member with voting right may vote for up to the number of IAU Members to be elected.  Candidates with most votes are elected.  Lots will be drawn in case a tie-breaker is necessary.  Elected IAU members shall vote among themselves to determine who the Chief Administrator and Treasurer are.
---
On Facebook
Facebook Event Page: Click here
Please note that you have to log into Facebook and be a member of the HKTX Facebook group to view the contents. To go to the Facebook group, click here.
---